XFZM Portable Electric Nail Drill, Compact Efile Electrical Professional Nail File Kit for Acrylic, Gel Nails, Manicure Pedicure Polishing Shape Tools Design for Home Salon Use
Item specifics
Brand:

XFZM
Brand:

Electric Nail Drill
Power:

20000RPM
Rated Input :

11OV-220V
Colour:

Purple
Description
Product Description
1) Multifunctional: Designed with 6 kinds of metal bits (also works with all kinds of 3/32" shank bits) and 6 sanding bands, which are used for grinding, carving, cutting, polishing for all nail arts as well as cuticle removal.
2) Adjustable Speed: 0-20,000RPM with a speed control button, which makes this electric nail file easier to polish your nails.
3) Low Noise and Low Heat: This electro file is with a powerful yet quiet motor. Also, the smart heat dissipation can avoid overheating efficiently. (no more than 20 minutes of continuous use each time is recommended).
4) Portable and Light: Compact and lightweight design make it easy to carry and portable to bring it out, you can so your nail art work anytime anywhere.
5) Easy to Use: It is professional for both home and salon use. Just need to connect the power cord with it to start working.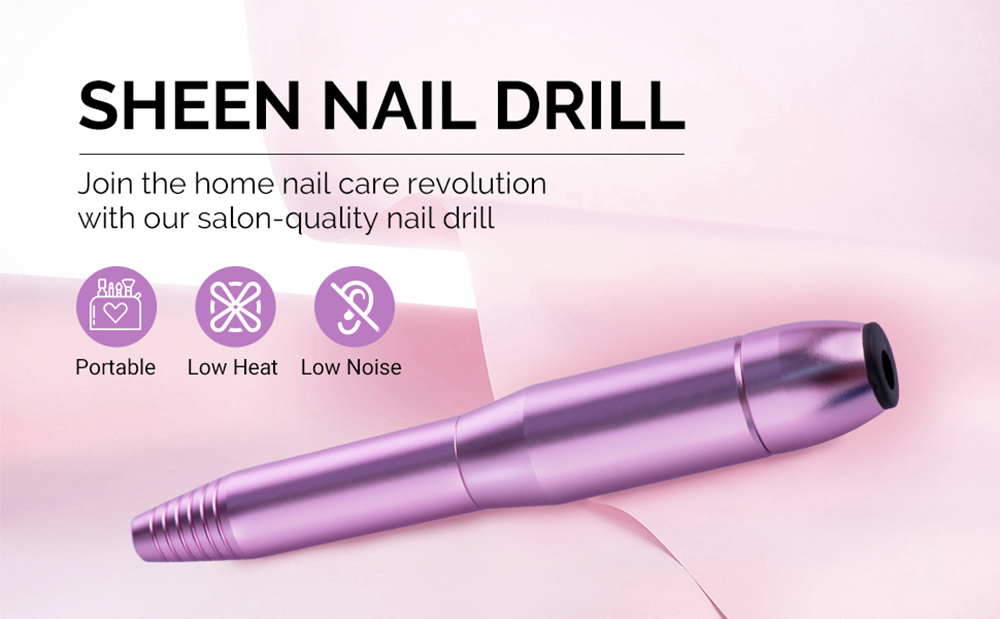 XFZM SHEEN NAIL DRILL
Using Tips:
1. This nail drill is designed for acrylic gel nails. So if you want to remove the gel polish of natural nails, please use the nail polish remover pads instead of a nail drill to avoid damage to the nail bed.
2. In order to meet the requirements of professional manicurists, this product is designed to have an adjustable rotation speed of 0-20000 rpm. Please slowly adjust it from low speed to a higher speed that you like when you are using it. Do not adjust it to the highest speed all at once to prevent the improper operation from hurting your nails.
3. A high-speed motor will inevitably generate heat, so please do not use the nail drill for too long each time. When you feel that the nail drill is overheated, please stop using it immediately and wait for the heat to dissipate before using it again. (no more than 20 minutes of continuous use each time is recommended)
4. Please use the adapter in the original package. When the nail drill is rotating, please turn off the switch before replacing the nail drill bit.
5. Please do not pull the power cord or let the device drops or by other impacts.
6. Please do not use the device when the connecting wires broke and do not touch the plug with a wet hand to prevent electric leakage and shock or fire. Do not operate in wet or moist conditions/Only a dry cloth is allowed for cleaning.